May in Bloom
To mark our 20th anniversary, we're exhibiting in the Great Hall at the RHS Chelsea Flower Show for the first time! Expect the scent of our sustainably grown roses, English sweet peas, seasonal flowers and herbs to hit you before you even get to our display, which showcases the journey of our flowers from farm to vase. Discover more about our plans here or click here for your chance to WIN two tickets to visit the show.
Scent to Remember
"For me, Lily of the Valley is the epitome of spring. It's so delicate, so small and unassuming, yet its scent is just mind-blowing," says our head florist, Jay Archer. The birth flower for May, Lily of the Valley has a very short season, which for us makes it even more special. For the first time, we're thrilled to be able to offer a trio of Lily of the Valley bud vases using stems freshly picked from our Hampshire eco farm.
May Birthday
Do you know someone who is celebrating their birthday this month? Our head florist Jay has designed the first in a series of seasonal birthday bouquets inspired by the month's birth flower to showcase the very best of what's in season now.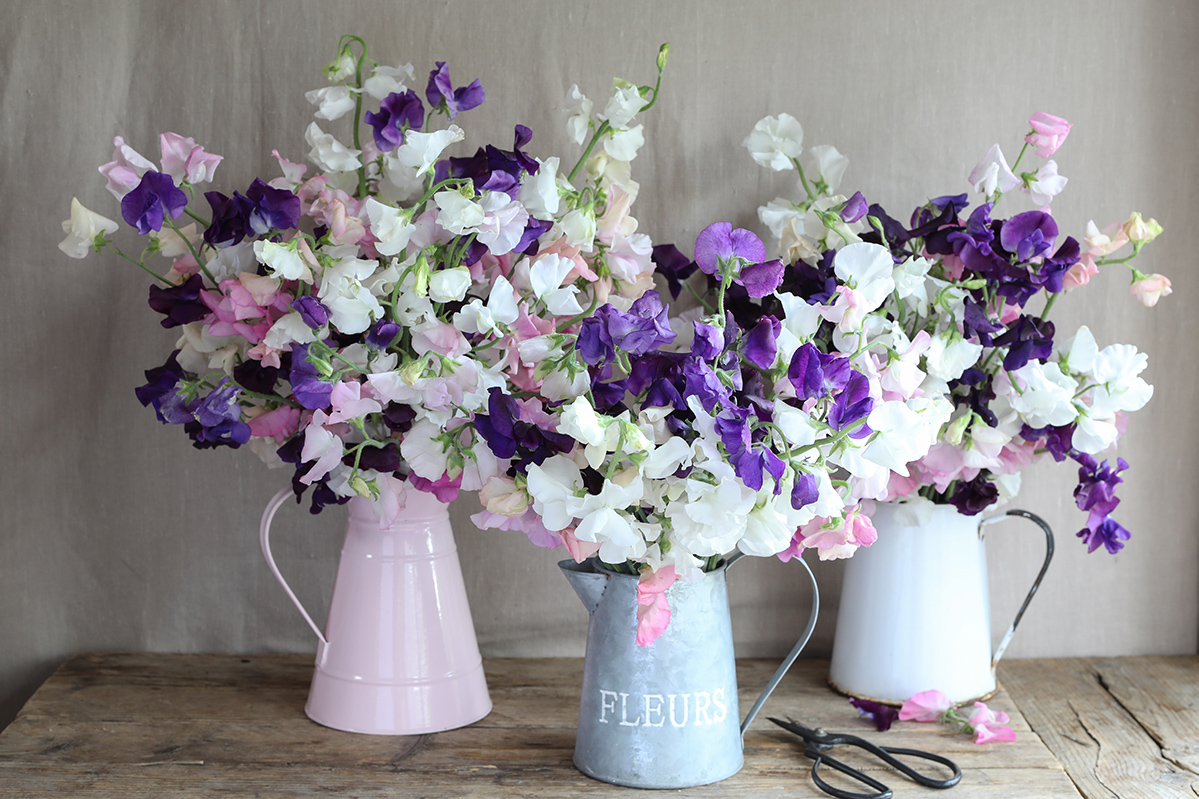 Get Growing
If you want to grow your own flowers to use as cut stems at home, our founder and flower farmer Rosebie suggests Nigella, Nicotiana, Cosmos, Sweet Peas, Clary Sage and Cornflowers as easy-to-grow flowers that are great for picking. If you've already sown your annuals in seed trays, they should be ready for planting out now – but if not, it's not too late. You should be able to buy Sweet Pea seedlings and annuals ready to plant out at your local garden centre.
Everything is Rosy
At the Rose Paddock we are hoping that our roses have withstood any late frosts and that this year we'll get an early pick. Keep an eye on our Instagram or Facebook accounts to be the first to hear.
Flowers from our Farm
We caught up with Rosebie to find out what's coming into bloom on the farm and will be hand-tied into our bouquets and filling our London shop: "Everything is growing fast, with Rubrifolia putting on a show of colour and the Rugosa Rose dazzling with its vibrant green. Hesperus and Lily of the Valley are flowering, as is the Golf Ball Viburnum – hard to miss with its abundant flowers, now green then turning to white. The whole farm is simply bursting into life."