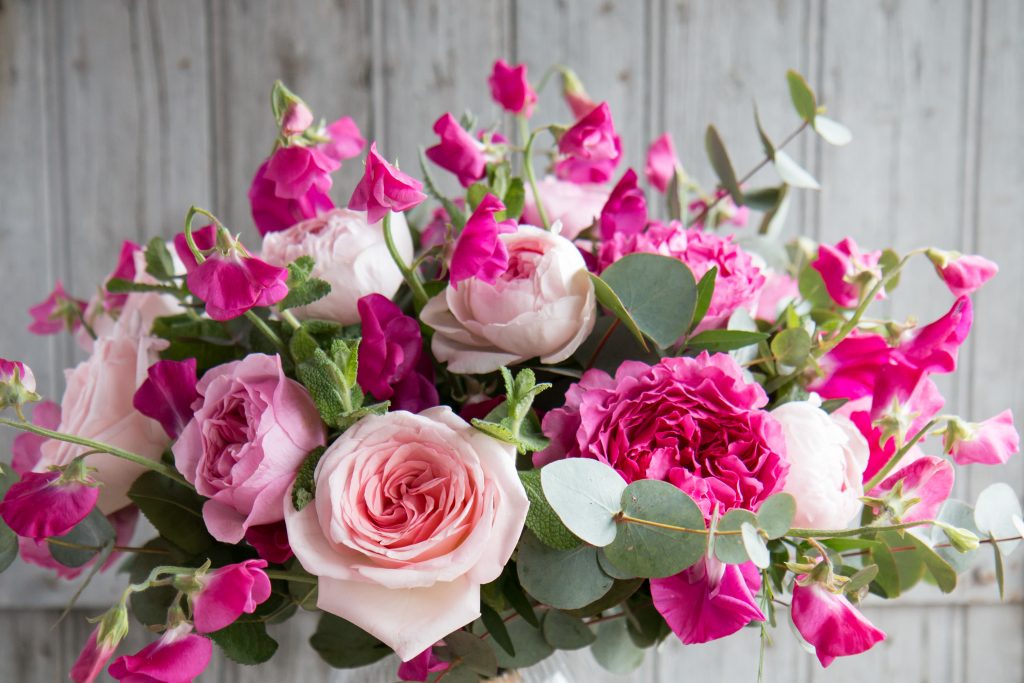 Rosebie Morton, our founder and flower farmer, has loved sweet peas since she was a child. "They are such simple flowers, so understated and yet so beautiful," she says. "As soon as the first shoots appear, the tendrils seem to beckon and one's nose starts twitching for that first whiff of exquisite fragrance." Rosebie grew up in a military family that was constantly on the move, but wherever they lived, her mother Elspeth would create a garden where scented roses, English flowers and herbs would flourish, even in the most unlikely conditions. Sweet peas would always feature in the gardens Elspeth planted and dreams of the first sweet peas of spring have always lived with Rosebie through the dark winter months.
On our sweet pea farm in Chichester, England, we hand-tend around a million sweet peas a year under the watchful care of Rosebie and our farm manager Gerry.Our sweet peas are hand-tied into luxurious scented bouquets that can be ordered online for next day London and UK delivery and are also supplied directly to florists. We asked Rosebie for her tips on how to grow sensational sweet peas.
Choosing which sweet peas to grow
If you are growing outdoors in the UK or somewhere with a similar climate I'd always recommend a summer-flowering variety. I think Roger Parsons,
who holds the National Collection of Sweet Peas, has a wonderful selection – my favorites are Cathy, Romeo, Zorija Rose, Alisa and Emily.
Tip: Day length is more important than warmth when growing most cut flowers including sweet peas, so choosing a summer-flowering variety is likely to give the best results.
When to sow sweet peas
I'd always suggest sowing inside on a windowsill or in a greenhouse rather than directly into the soil. February to March is the best time to get started but I've sown seeds at the end of April and still been successful – I just had a later crop.
How to sow sweet pea seeds
Sweet peas need a good amount of depth for their roots (known as a good root run) and don't like their roots to be disturbed once they've been planted. So I'd suggest sowing your seeds in loo-rolls, kept upright in groups in pots. Or invest in Root Trainers, which cleverly hinge open.
Always use a good-quality compost.
Cover the seeds with about 2–3cm of compost and water them in well.
Water regularly to keep the soil moist but never wet. Don't let the soil dry out.
Expect your seedlings to start to appear after about two weeks.
There's no need to chit or soak sweet pea seeds
Tip: If your greenhouse attracts mice, place holly over your pots to act as a natural deterrent. Mice tend to be very keen on sweet pea seeds!
Should you pinch out your sweet peas?
If you are growing your sweet peas for cutting, then when the shoots first appear you will get better results if you establish which is the dominant shoot and pinch out the other, subordinate shoots. Continue to do this as your seedling grows. If you are growing for cutting then also pinch out any tendrils.
If you want a fuller plant for your garden, there's not need to pinch out.
When to plant out your sweet peas
Plant out your sweet peas when the risk of the last frost has passed, usually in May.
Planting out your sweet peas
Sweet peas are very hungry, so make sure you prepare the soil well with good compost and muck, digging in at least 30cm down.
While planting be careful not to disturb the roots. If you've used loo-roll tubes, these can go straight into the ground along with the seed.
Water in well.
Tip: Sweet peas can do well in containers but make sure you choose one that's 20 litres or bigger.
Supporting your sweet peas
Your sweet peas will need some kind of support. If you are growing sweet peas for the garden, they can look wonderful grown through a tall rose. They also work well up growing up a trellis.
I make teepee shapes using hazel sticks but bamboo from a garden centre works well too.
Tie your sweet peas on to the support as they grow.
How to make your sweet peas last
When your sweet peas first start to bloom, make sure you cut the flowers regularly (or just deadhead regularly if you've planted them to enjoy in the garden). Don't let them go to seed.
Feed your sweet peas again half way through the summer.
Tip: For longer stems, continue to pinch out the tendrils throughout the growing season.
Discover ten sweet-smelling facts about sweet peas here.
You can also shop our range of sweet pea bouquets here.
If you are a florist and are interested in finding out more about our sweet peas, then please get in touch with Jo and Jilly in our trade team on 01730 818300 or at trade@realflowers.co.uk.